Upheaval
Upheaval Alpha Version 0.0.9 is Available (The Sounds and Music Update)
---
Hi adventurers! Upheaval Alpha Version 0.0.9 is the Sounds and Music Update! Be transported to a new world with new ambient background tracks for each location, and enjoy the new music tracks in the game, including the main menu theme, written by me! Other major updates include a complete overhaul of the tavernkeeper (go check him out!), a search progress report every time you search an area, a whole new location to visit, and the ability to look out on the world from the overlook and tower and see what's going on around you. I hope you enjoy! 🥳
To try out this update, download the free demo, or, if you own Upheaval, download the new update from itch.io or Google Play. To get an email when the full game is done, wishlist Upheaval on Steam.
After you download the update, start a new game to try out the new content!
SPOILERS MAY BE AHEAD! TAKE CARE!
Highlights from this update
New ambient background sounds for all locations. It sounds like you're really there (probably)! 🎧
New background music will play intermittently throughout the game! Also, the main menu theme was composed by none other than myself. 🎵
The tavernkeeper now allows you to ask specific questions, so he's more likely to dispense useful information when you talk to him. Try him out! 🍻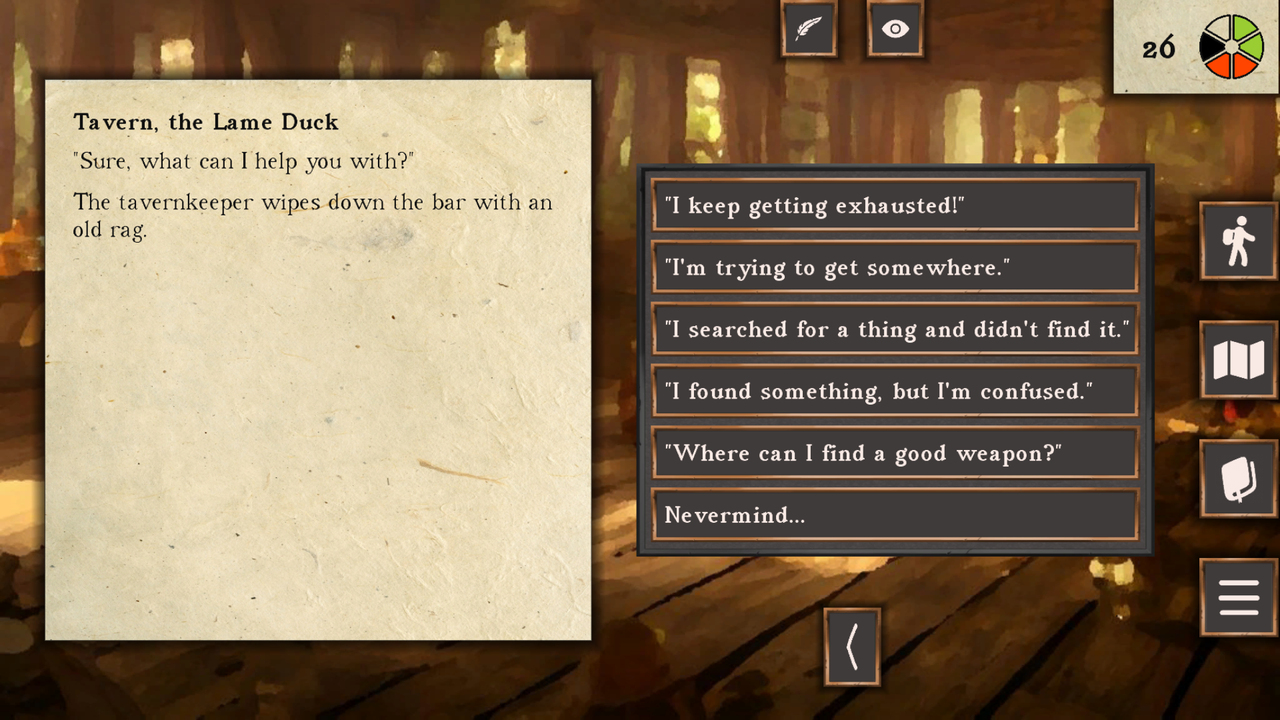 You can now see roughly how much of an area you have searched after each time you search it. If you have searched almost the whole area and found nothing, there's probably nothing there! 🔎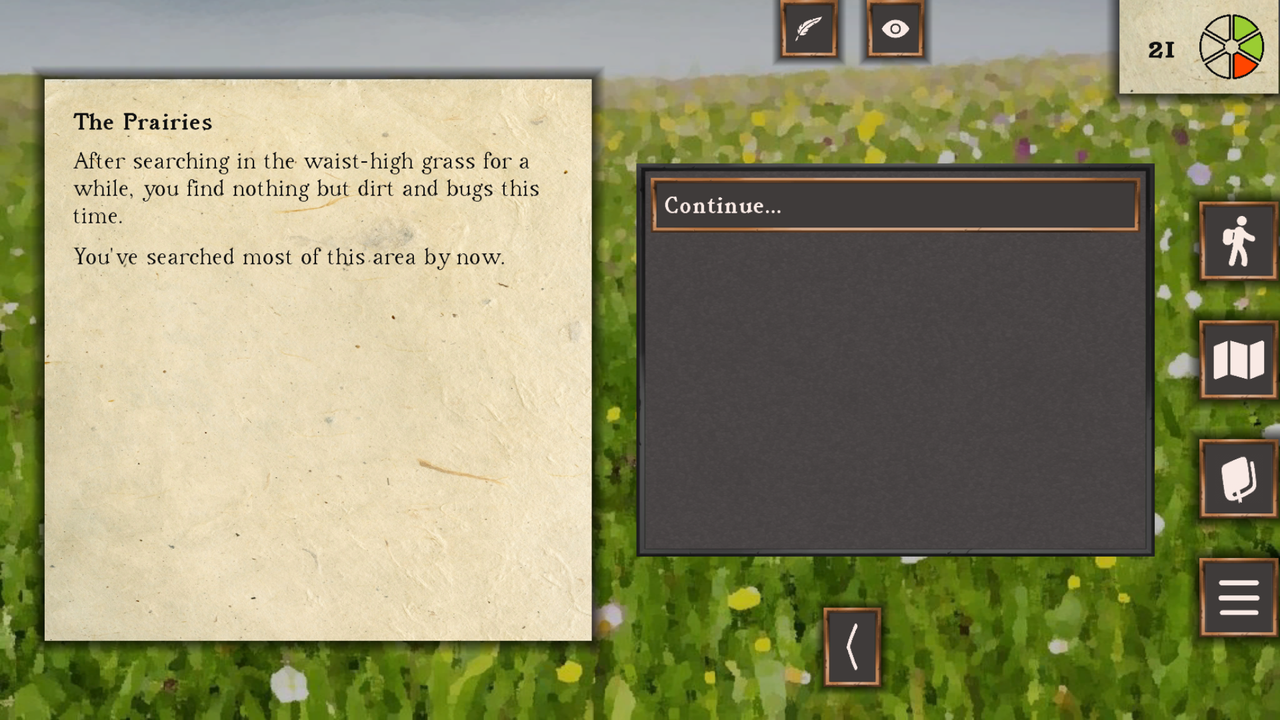 You can now look out from the overlook on top of the mountains and the top floor of the tower, and see useful information from up there! Things like the ranger, the imp, the undead, the hermit's hut, the bandits, and possibly more will all be visible if you can just get to a high place and look down on the world. 👀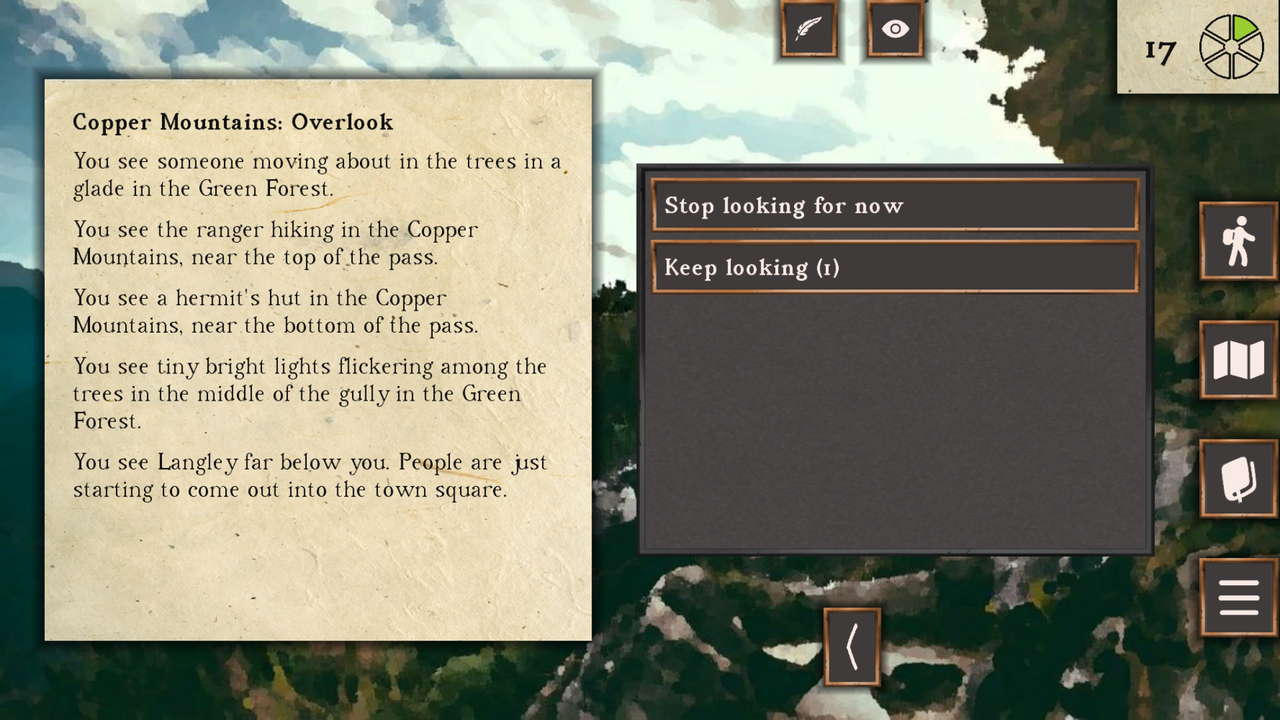 You can now (sort of) visit the manor! This new location was mentioned in some places in the game, but I had removed access to it because it was unfinished. I've added just the barest of bare bones version into the game for now. This location will be fleshed out more in future releases! 🏡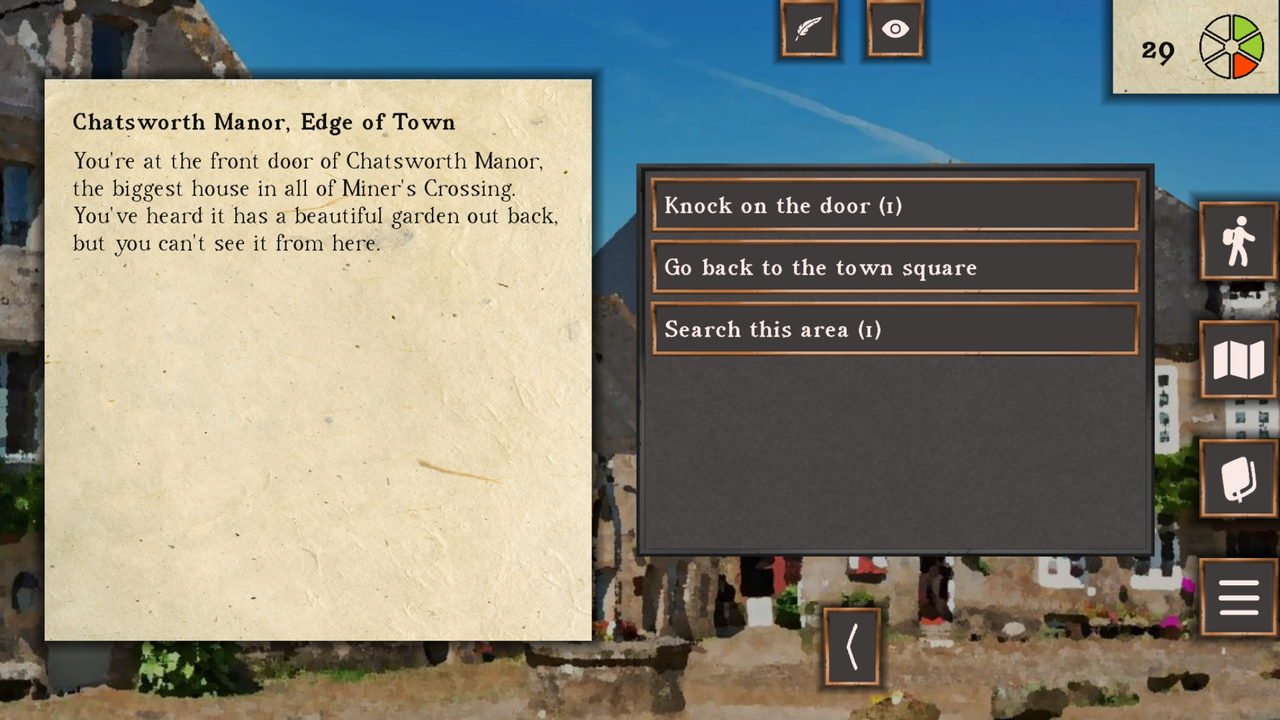 Keep reading to see the complete list of changes! 😊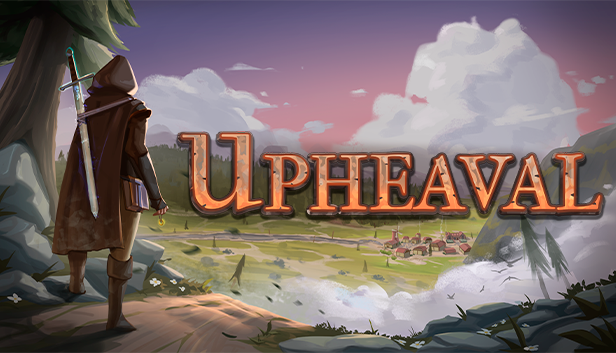 Detailed changes
Special thanks to George, Jonathan, David, and Patrick for their playtesting of this release! Your help is really appreciated. ❤
Additions:
18 new ambient background tracks for all locations!
Six new music tracks. Main menu theme is by Alex Leone (me!), and the other five songs are by Alexander Nakarada, licensed under CC-BY 4.0. Tracks by Alexander Nakarada are:

Adventure
Autumn Walk
Elysium
Shelter Song
Gjallar

Sound effects for interactions with the game: paper rustling for journal- and map-related actions, various clicks for everything else.
Added Settings Audio submenu where you can change four different volume levels: Music, Ambience, Effects, and Master. Note: If you run the console version first on your computer, the Master and Music Volume will both be set to 50% by default, to allow players with screen readers to better hear their screen readers on startup. Feel free to change the Master volume to whatever you like after startup.
Added new unique background image for the lake (very pretty!).
Added possible "Iron Mountains" name.
Added new location, just outside the Manor
Added new option to unlock the prisoner's door immediately if you have a key the first time you meet them.
Added explicit "Zoom Out" button to the map in the graphical version when you're zoomed in (clicking/tapping the map a second time will still zoom you out, same as before).
Added new option in throne room after defeating the Goblin King.
Added a new name to the magic map.
You can now see roughly how much of an area you have searched after each time you search it. Search levels are: Some of an area, About half of an area, Most of an area, and Almost all of an area. Smaller areas (like the goblin storeroom, for instance) will skip some of these search levels, but all of them end with "almost all of" the area you're searching.
Changes:
Overhauled the tavernkeeper's help: Now, asking the tavernkeeper for help allows you to ask specific questions, so the likelihood of him saying something useful increases!
Made the background image inside the burial mounds darker and spookier.
Made it harder (hopefully impossible?) to accidentally double-click the Feedback button in the graphical version.
Added a hint suggesting that the location the imp teleports you to may be intentional.
Added a hint that suggests where your stuff is going to end up after the bandits take it.
Slightly improved visuals for popup screens and choice buttons.
Improved the clarity of some of the location and treasure clues.
Made it take less time to wander north into the forest from the field south of it (2 time instead of 3 time).
Changed name of one of the final options to better describe my intent with it.
Changed the data format for world descriptions to give me extra flexibility to write some of the upcoming tricky bits.
In console versions: Standardized "press enter to go back" throughout many sub-menus while playing the game (such as the map, inventory, character, and journal screens).
Fixed typos and improved descriptions generally throughout.
Bug Fixes:
Fixed the villagers sometimes warning you multiple times about the goblins in the forest (they should only warn you once now, thank you Xvordan!).
Fixed the goblins sometimes surviving at the end of the game and taking over even after you defeated them; not cool, goblins!
Fixed many incorrect descriptions.
Fixed many smaller bugs.
Created many audio-related bugs.
Fixed all the audio-related bugs I could find! 😅
Give feedback
Join the Upheaval Discord to find out when the next update will be available, chat with the developer, make suggestions, ask questions, and get the inside scoop on what I'm working on. Thanks! 😊
Files
Upheaval Demo - Android
119 MB
Version 0.0.9
May 23, 2023
Upheaval Demo - Windows
114 MB
Version 0.0.9
May 23, 2023
Upheaval Demo - Windows Command Line
73 MB
Version 0.0.9
May 23, 2023
Upheaval Demo - Mac
117 MB
Version 0.0.9
May 23, 2023
Upheaval Demo - Mac Command Line
74 MB
Version 0.0.9
May 23, 2023
Upheaval Demo - Linux
114 MB
Version 0.0.9
May 23, 2023
Upheaval Demo - Linux Command Line
73 MB
Version 0.0.9
May 23, 2023
Upheaval Alpha - Android
119 MB
Version 0.0.9
May 23, 2023
Upheaval Alpha - Windows
114 MB
Version 0.0.9
May 23, 2023
Upheaval Alpha - Windows Command Line
73 MB
Version 0.0.9
May 23, 2023
Upheaval Alpha - Mac
118 MB
Version 0.0.9
May 23, 2023
Upheaval Alpha - Mac Command Line
74 MB
Version 0.0.9
May 23, 2023
Upheaval Alpha - Linux
114 MB
Version 0.0.9
May 23, 2023
Upheaval Alpha - Linux Command Line
73 MB
Version 0.0.9
May 23, 2023