Upheaval
Upheaval Alpha Version 0.0.5 is Available (Accessibility, Desktop improvements, & More!)
---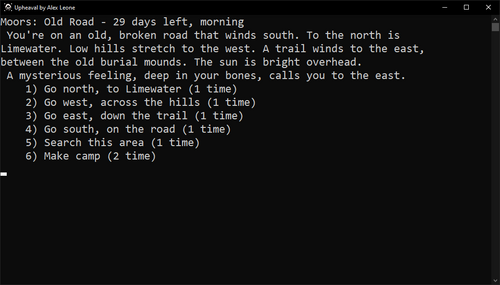 Hi all! Upheaval Alpha Version 0.0.5 introduces a Windows Console version of Upheaval focused on accessibility (also available as a demo). It also has some good improvements for players on the Windows desktop version of Upheaval. This update is a little lighter on the new content, but it's got lots of quality of life improvements. :)
SPOILERS MAY BE AHEAD! TAKE CARE!
NEW accessible Windows Console version (including a demo version)! Accessible for screen readers and keyboard-only players. Please let me know if anything is negatively affecting your ability to play this version of Upheaval; I'd love to know, and I'd love to fix it for you. :)
New Fullscreen modes for Windows. Press Alt+Enter to cycle through Windowed, Borderless, and Fullscreen modes, or use the new button in the menu.
New "Exit to Desktop" menu button on Windows, to go with the new Fullscreen mode.
Tap/click the map to zoom in on the area you tapped/clicked (instead of the area you're currently in).
3x as many possible names for your home town (12 total). Hopefully each world (and save file) feels a little more unique now.
New tutorial explaining how searching works. Helpful for new players!
Lots of descriptions improved (corrected typos, improved clarity or grammar, etc).
You can now resize the game window on Windows.
Content on Windows is slightly wider, to make better use of the extra horizontal screen space.
Images compressed on Windows build, making the .exe about 33% smaller.
Save files are significantly smaller, which should increase performance and make debugging save files easier.
When you view past encounters, the choice you actually selected is now marked.
The Upheaval icon now shows on the window and in the taskbar on Windows and Windows Console.
New Bandit interaction: When you run away, as long as you're not tired or exhausted, there's now a 50% chance you'll escape from them in a random direction.
Fixed a bug where you couldn't see the ranger if you were standing by the tower if the ranger was in the location next to yours.
Removed phantom food from the hermit's hut.
Download the new update from the game page.
Join our subreddit community to chat with the developer, ask questions, and get the inside scoop on Upheaval development. Thanks! :)
Files
Upheaval Alpha - Android
84 MB
Version 0.0.5
Dec 12, 2022
Upheaval Alpha - Windows
82 MB
Version 0.0.5
Dec 12, 2022
Upheaval Alpha - Windows Console
72 MB
Version 0.0.5
Dec 12, 2022